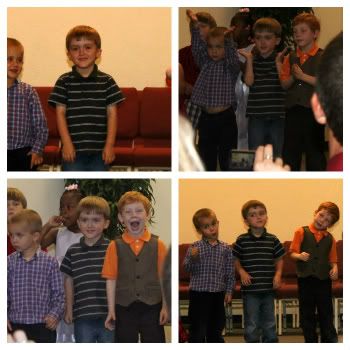 Following a morning of praise and worship with my high school kids, we continued today's theme at Nathan's preschool program. When we first arrived, Nathan was a little nervous about performing in front of an audience, but once he met up with his buddies, he was ready to shine. Both sets of grandparents joined the boys and me as we watched Big Brother take the stage. I loved watching his precious face search for a familiar one before finally spotting us. A classic Nathan smile spread across his face and he got his hands ready for the Waves of Mercy! Although I spent most of that time trying to snap the above blurry photos, I remembered to switch to video during the tale of a hungry worm. Here's a snippet:
When the K3 kids received their last round of applause for that funny little song, the K4 class was presented, donned in caps and gowns. One by one, they received their preschool diplomas. I'm not afraid to admit I teared up for these kids, most of whom I've never met. Let's just say this time next year, I better come armed with a box of Kleenex and water-proof mascara.
As for now, I couldn't be prouder of my little boy. He has learned so much this school year. So much about letters and sharing, but more importantly, about the love of God. I've never met a more compassionate child and I know it's only the beginning of my amazement for him. Next year is his last of preschool, but it's only the start of something wonderful.