Not my picture, but I sure wish it was! Click here for the Ozark-based source.

Fall decorating
is the predetermined topic du jour, thanks to the ladies at Arkansas Women Bloggers. They've conjured up a week of fall topics for a challenge known as Blogtober Fest: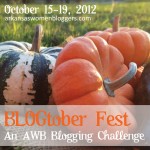 Aside from a puffy pumpkin hung on our front door to smile at speeding cars and visiting grandparents, though, we don't have much. It's not that we don't *have* fall decor, it's that I'd rather sit at the computer writing for you than dig it out. (You're welcome.)
No, when I think of fall decorations, my mind goes beyond scarecrows atop hay bales or cobweb-wrapped columns. I think of the more natural decor of autumn in Arkansas.
Even in my less-than-hilly corner of the state, the changes that take place are grand. Though the crisp in the air has yet to arrive for good, it's already different. It smells different. It tastes different. It awakens a part of my soul that actually wants to stay outside for hours at a time.
(This part of my soul gets pushed aside when it's 100+ out.)
Groups of happy yellow blooms dot my morning commute up and down the lonely highway. Sunflowers tower over young pine trees and seem to be planted on purpose. Wildflowers spread like fire through pastures. Sunlight pours from the sky and ignites the scene.
On hazy autumn mornings, the back-lit cows look heavenly. That's saying a lot for animals that can stink for miles. :)
When I think of fall decor, I don't think anything in my closet can compare to the reds, yellows, and oranges of the hardwoods taking turns with the evergreens. Brown-leaved trees show their age, but still make me want to light a pumpkin candle, organize a game of football, and roast a marshmallow. (in that order.)
Or... perhaps this was all just a ruse to convince myself that the fall decor can stay in its tub. But, believe me, the Bauer boys would sure love to see their old scarecrow friend propped up on the porch.
Sigh.
Into the closet I go. Happy Monday and happy fall, y'all!